10 Parker 3Way Solenoid Valve- Complete Group Valve for Espresso Coffee Machine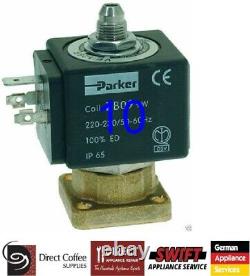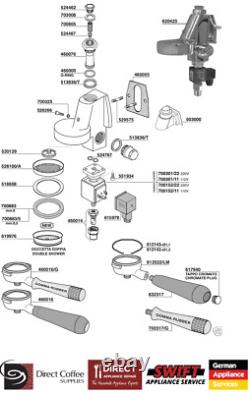 Top Quality Products Across All Items in Stock. Excellent Feedback Shop with Peace of Mind. PLEASE NOTE WE ARE AUTHORIZED SERVICE AGENT FOR.
IF YOU ARE NOT SURE WHAT SPARE PARTS TO ORDER IN ORDER TO FIX YOUR APPLIANCE OR A NEW ACCESSORIES OR THE SPARE PARTS THAT YOU ARE LOOKING FOR IS NOT LISTED. 10 X Parker 3 Way Solenoid Valve. Complete Group Valve for Espresso Coffee Machine. E131F4304 - drain ø 1/8 conical - max 10 bar.
RUBY seal - orifice ø 1.5 mm. With coil 483510S6 9W 220/240V 50/60Hz.
Compatible With The Following Models. ASTORIA CMACoffee machineADRIA, ARGENTA, BRAVA, CK, CKE, CKX, CKXE, DENISE, DIVINA, DORA, GLORIA, LISA, PERLA 4D, PLUS 4 YOU, PRATIC, PRATIC NEW, RAPALLO, SIBILLA, VANIA. BFCCoffee machineCLASSICA, DELUX, GALILEO, GRANDOGE, JUNIOR, LIRA. BRASILIACoffee machineCENTURY, GRADISCA, PORTOFINO, ROMA.
CASADIOCoffee machineDAFNE, DIECI, DODICI, QUINDICI, UNDICI. CIMBALICoffee machineJUNIOR, M15, M20, M21, M21 JUNIOR, M25, M27, M28, M29, M30, M31, M32, M39-GT. CONTICoffee machineCC100 COMPACT, CC100 SA-SAM, CC100 STANDARD, CLUB, MONTECARLO, TWINSTAR2, XEOS2. ESSIKACoffee machineDUEA, E61, E91, E92, ELITE, EUROPA95, EXPRESS, SK2, SSK2. FAEMACoffee machineCARISMA A, COMPACT, COMPACT A, COMPACT S, DUE, DUE A, DUE S, E91, E92, E92 ELITE, E97, E98, ENOVA, EXPRESS, SMART, SMART A RESTYLING, SMART S RESTYLING, STYLEMA.
Coffee machineBRICOLETTA, CAMPANILE, COLOMBINA, DUCALE, FENICE, LIDO, MURANO, RIO, VOLANTE. GRIMACCoffee machineECLISSE, G105, G11, TEN, TWENTY, ZOLA-I, ZOLA-II. ISOMACCoffee machineMILLENNIUM, MONDIALE, TEA, ZAFFIRO. NUOVA SIMONELLICoffee machineAPPIA, AURELIA, AURELIA II, AURELIA WAVE 2019, MAC CUP, MAC2000, OPTIMA, OSCAR, PERSONAL, PREMIER, PREMIER MAXI, PROGRAM VIP. PAVONICoffee machineBAR, BART, CAFE, HOTEL, P TRE, P UNO, P90, PUB.
RANCILIOCoffee machineAUDREY, BETSY, CLASSE10, CLASSE6, CLASSE7, CLASSE8, CLASSE9, EPOCA, FANTASY, MILLENIUM, NANCY, S10, S20, SILVIA, Z11. RENEKACoffee machineCONCEPT, LC, LIFE - LIFE HIGH CUP, MOSAIC, PLUS SERIE PRESTIGE, STREAMLINE, TECHNO, VIVA, VIVA E, VIVA E EVO, VIVA S, XL BASIC, XL PALLAS.
SAB ITALIACoffee machineE96, ELLIPSE, MODERNA. SAN MARCOCoffee machine100, 85, 95. VICTORIA ARDUINOCoffee machineADONIS, ATHENA-S, VENUS-BAR, VENUS-CENTURY. WEGACoffee machineAIRY, ANTARES, COLOSSEUM, COMBINOVA, CONCEPT, ESPRESSA, EURO-2000, FORMULA-MILANO, JUNIOR, MININOVA, NOVA, NOVECENTO, ORION ECO, POLARIS, SPHERA, START, SYNTESIS, VELA, VENERE. The product must be unopened/sealed. Zone 3: Rest of Asia. Zone 4: USA and Canada. Zone 6: UK and Ireland. Zone 8: Rest of World 1. Zone 9: Rest of World 2. Does Direct Coffee Supplies only sell new items? Most of the items are brand new unless otherwise stated. Sometimes we sell refurbished machines or parts. Do you sell genuine products? All the products we sell are genuine products. We do not sell fake or grey imported products. Can I modify my order once submitted? Due to the fast processing of the orders, we cannot accept changes to orders once placed. We are located at 1/36 Port Kembla Dr, Bibra Lake WA 6163 Australia. We are Authorized Service Agents. COFFEE BEANS STORAGE BEAN VAC.
LA SAN MARCO SPARE PARTS. N & W NECTA SPARE PARTS. This item is in the category "Home Appliances\Coffee & Tea Makers\Coffee, Tea & Espresso Parts". The seller is "directcoffeesupplies0424957957" and is located in this country: AU.
This item can be shipped worldwide.
Custom Bundle: No
MPN: 471012, 1120330, OPN 1120330
Compatible Model: ASCASO ASTORIA CMA ATEL AZKOYEN BEZZERA BFC BRASIL
Item Width: .
Bundle Description: no
Item Height: .
Power Source: Wall Plug-In
Item Weight: .
Compatible Brand: WEGA, LA MARZOCCO, BFC, CIMBALI, ASTORIA, NUOVA SIMONELLI, RANCILIO, BRASILIA, EXPOBAR
Brand: Parker
Item Depth: .
Type: SOLENOID VALVE