Astoria Tanya Sae 3 Group New Espresso Coffee Machine Black Commercial Cafe Bar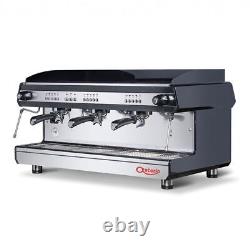 ASTORIA TANYA SAE 3 GROUP NEW ESPRESSO COFFEE MACHINE BLACK COMMERCIAL CAFE BAR. Simplicity and durability, combined by a rigorous design, communicate the soul and the body of this espresso coffee machine. With simple but balances aesthetics, realised with durable materials and with details optimised for a professional use, TANYA results as the ideal solution for those seeking the essence of quality and the best combination of simplicity and reliability. Available in SAE electronic version, with volumetric dosage of 4 coffee doses directly programmable from the control panel, and in the AEP semi-automatic version, provided by manual button command. Available in black or white.
Electronic version with volumetric dosage. Body with panels in stainless steel and in painted steel. Boiler and pipes made in copper.
Double gauges for boiler and pump pressure control. Pilot light indicating the water level in the boiler. Dimensions (mm): 515H x 535D x 955W.
For your peace of mind, this machine. Comes Brand New In The Box. Finance partners : Afterpay, Zip Pay, Wizpay, Grenke, Silverchef & more! As we are constantly receiving new stock, we are creating new listings daily. Coffee Machine Warehouse is the world's leading supplier of espresso coffee machines & coffee equipment to the hospitality industry with over 1000 machines in stock & over 100 different brands of both new & used available.
With over 25 years experience in the coffee equipment industry you will be sure to receive a standard of service that is next to none. At Coffee Machine Warehouse, we are not all about the technical knowledge however.
We offer a rare blend of technical expertise and superior sales service, which makes it very easy for you to define the perfect machine for your needs - whether it is for your home, office, café or restaurant. We take care of everything from coffee machine selection, installation, servicing and even financing, in some cases.
Our in-house coffee consultants have helped thousands of businesses over the years to take off well, and if you are just starting off, we would love to assist you in finding the most suitable equipment for your needs. You are welcome to collect your items from our Clayton, Victoria warehouse. We ask for 1 day's notice before collecting so we can ensure your items are ready & accessible. We have plenty of accessories, coffee & equipment available in store so collecting from us will allow you to browse our entire range. We are available Sunday by appointment only. They will require our authorisation to redeliver so touching base with us first is the best way to organise a redelivery. We will update your tracking information the afternoon of dispatch.
If your tracking shows no results, you should try again in the morning as new entries to the online portal is usually updated overnight. What should I do if I have changed my mind and want to return a product? Please choose carefully as we do not normally accept return of goods where you have simply changed your mind or have chosen poorly.
The available remedy will depend on whether the fault amounts to a major failure. Most faults can be easily repaired within a reasonable time frame.
We will not offer a repair or replacement if the product has been damaged by misuse or abuse. Examples include but are not limited to inadequately filtered water, lime scaling, corrosion due to high chloride ion concentrations in water, operator errors, unauthorised repair work or modification and fair wear and tear. You certainly have that option. We are happy to provide you with their relevant contact details to assist you.
La Marzocco Linea Classic 3 Group. La Cimbali M200 2 Group - New. La Marzocco FB70 3 Group. La Marzocco Linea PB 3 Group. San Remo F18 2 Group - New.
La Marzocco Linea PB 4 Group. Kees Van Der Westen Mirage 3 Group. La Marzocco FB80 3 Group.
If there is something you are looking for that you can't find in our store, let us know. We are creating new listings daily & can source any type of espresso coffee equipment you need. We look forward to hearing from you!
Coffee Machine Warehouse is Australia's Largest Coffee Machine Online Store. We offer wholesale coffee machines for sale direct to the public with our commercial coffee machines for sale. We make it easy for you to order coffee machines online and provide options for the best coffee machines in Australia. We stock over 1000 coffee & espresso machines with all the best coffee machine brands and the best coffee equipment in Melbourne. We have a great range of domestic coffee machines, professional coffee machines & small commercial coffee machines available at our showroom and able to order coffee machines online.