Astoria Valina Plus 4 U Commercial Coffee Machine +4U (3 Group) Simply Superb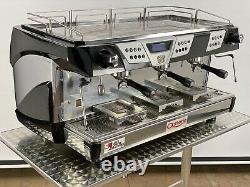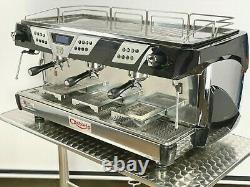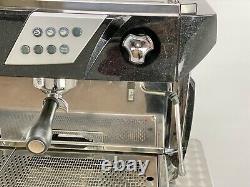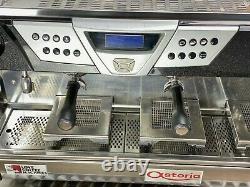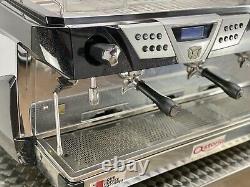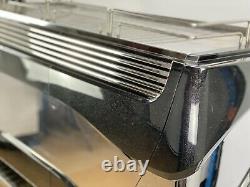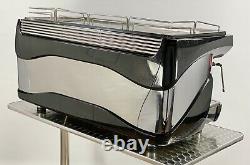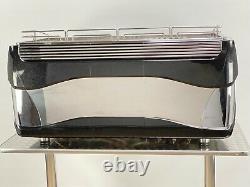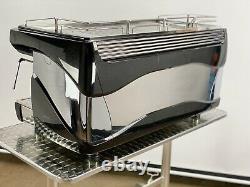 CMA Astoria Valina Plus 4 U +4U 3 Group Commercial Coffee Machine Fully Automatic - Shiny & Simply Superb! This example is finished in Metallic Black and chrome panels, and in lovely condition. Very few marks to be commented on.
Please see and study the extensive photos. As you can see we refurbish and prepare the machines to a very high standard. These are high volume machines selected by Costa for their reliability, green credentials, serviceability and simply the quality of coffee they produce.
They are designed to be shown off which is why we have Italian style with even down lighters for the coffee area. A great centrepiece with serious wow factor. These units have different boilers for each of the functions - four in total.
Each head has its own while the hot water and steam have their own, much larger dedicated boiler. A so say'normal' machine would have just one, but this isnt your average machine. This means you get lots of steam and hot water - perfect for great coffee and happy customers and most importantly the hot water and steam production doesn't affect the coffee. No more running your hot water down, losing temperature and then finding you cant make any shots. The digital display shows rather more than simply the temperature and pressure.
One can opt to set the display to show shot timings so you can easily refer to it making sure that your extraction is spot on. With this multiboiler using this interface you have the option to set each head temperature individually, this means that you can optimise different coffees using different heads. Furthermore when its quiet you can you can have the option to set individual heads to switch off after a specified period of time. When required you touch a button and they quickly heat up ready for service. This is simply to save electricity which has become more and more expensive as of late.
Perhaps we should view this like the maximum range of an electric car but I think an owner should enjoy using a third less electricity. The Valina model has raised heads which is very popular.
Ideal where takeaway drinks or tall cups are required. It has rather useful drawers to take espresso cups and short crockery. This machine has been bench prepared by an experience engineer. A process which takes about three days to produce a machine of this standard. The machine will have been fully serviced, checked, renewing parts as required so it will be ready to perform front line. Yes it has been used but we. To make the machine both perform like a new machine and look simply great. The best bit is that this is at a fraction of the price of new! Supplied with three original group handles and a backflushing plate and pipes for connection to services. This unit comes with an internal pump for space efficiency. We also have a copy of the original manual to assist with the operation of the machine, programming and routine maintenance.
You are also welcome to collect or if you wish, we can wrap and palletise in preparation for your courier without cost. Love Coffee Machines is a company dedicated to the supply of quality Italian Astoria refurbished coffee machines. The word'refurbished' is rather misused generally when a clean or a simple front end service seems to be the interpretation.
For us the word means that a machine will be poured over by an engineer for a process taking about three days. After removing all the panels, the boiler and pipes will be carefully disconnected, taking the machine to the chassis. The boiler and pipes will be.
Descaled, an essential process for reliability, before being polished. Then the machine is carefully reassembled complimented with a new certified boiler pressure valve. The panels then are cleaned and polished so they look stunning resulting in the machine looking great, from both the inside and the outside! Then the machine is run and thoroughly tested before being. And made ready for a new customer. By doing all this our aim is to exceed your expectation, providing you with a machine for years worth of trouble free service which is why we enjoy many clients coming back again and again. We also stock and can advise on refurbished grinders, regenerated water filters and all the ancillaries you may need for your operation. With many years of experience if you aren't sure, please just ask. We aim to be frank in assessment. All items must be installed by a qualified person i. Engineer, electrician, plumber or gas fitter and tested by them prior to use. If service and remedial work is required it must be performed by a qualified individual or firm. Plus 4 You is a machine from Astorias Green Line series: these low environmental impact products allow up to 47.6% of the consumption to be reduced compared with traditional coffee machines. Thanks to an innovative software that manages the automatic standby system during breaks, the night energy saving feature and the intelligent adjustment of the temperature. Plus 4 You distributes power only if and where needed. The machine automatically puts one or more groups into standby mode when the workload decreases and prepares them for full capacity when needed.
But in case the barista needs all units to be operative, they automatically turn right on the keypad and in 60 seconds will be fully operational at the programmed temperature. This is how you get the highest quality, flexibility and constant yield per cup with significant savings, for the barista and for the environment. Forceful and dynamic stylistic lines in which hollows and rounds alternate, as well as curves and straight lines, with an overall result that is unique in its kind: the design instils refinement while at the same time perfectly describes the superior technological component which is, and remains, the pulsating heart of Plus 4 You.
The keypad is backlit to make the search for functions easier and is positioned on the working front in order to optimise, speed up and improve the baristas work, who with but a few, simple movements manages to easily dispense all the beverages requested. As a standard and for maximum versatility in all preparations, the machine is equipped with a led light that illuminates the work area, and with units lifted by concealed cup lifting racks. The display, placed at the centre of the controls area, allows the main machine parameters to be programmed and displayed. With Plus 4 You, you can: set the temperature of the coffee water tank for each single unit set the steam boiler pressure produce steam with a dedicated boiler in a continuous and constant mode ensure the minimum water coffee temperature variation max. +/- 1°C in comparison to the set value.
The innovative technology of this model provides a heat adjustment device that allows a maximum performance together with the most suitable temperature to be fully exploited. The system simultaneously compares the parameters for dispensing individual coffees with optimal pre-set values and, in real time and according to the singularities of the coffee used, provides information on the product in the cup. · Electronic dispensing of servings. · Hot water mixing system. · Electronically controlled cup heater.
· LED illumination of workspace. · Retractable raised cup grates. · RS 232 serial line.
· USB port for programming. · Multifunctional Touch Screen colour display. · Display functions language options: Italian, English, German, French, Spanish, Portuguese. · Display with programming of the temperature of the coffee water tank for each group. · Display with programming of the temperature of each group.
· Display with programming of the steam boiler pressure. · Display with counter of selections for each type of serving.
· Display with diagnostic messages for easier service. · Display with manual or automatic energy saving settings.
· Display with notice of required water softening. · Display with display of machine parameters. 2 Group Specifications & Service Requirements. 13 + 3x 1.3.
40mm Gravity Drain with U trap and Upstand. The item "Astoria Valina Plus 4 U Commercial Coffee Machine +4U (3 Group) Simply Superb" is in sale since Saturday, June 12, 2021. This item is in the category "Business, Office & Industrial\Restaurant & Food Service\Bar & Beverage Equipment\Commercial Coffee, Cocoa & Tea Equipment\Other Commercial Coffee, Cocoa & Tea Equipment".
The seller is "lovecoffeemachines" and is located in Bristol. This item can be shipped to United Kingdom.
Country/Region of Manufacture: Italy
Unit Quantity: 1
Type: Espresso Machine
Power: More than 1500W
Brand: CMA Astoria