Bfc Vallelunga 3 Group Red Used Espresso Machine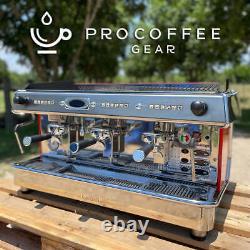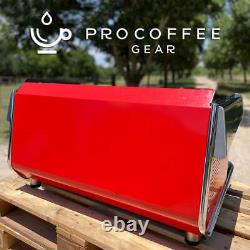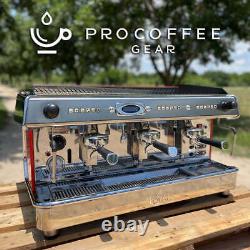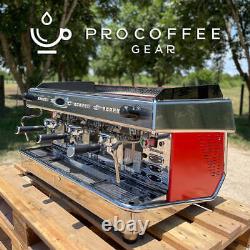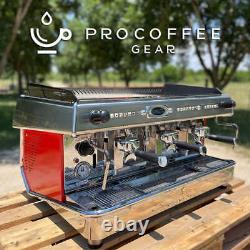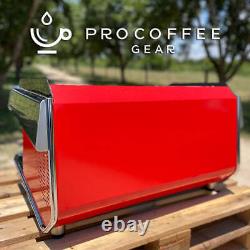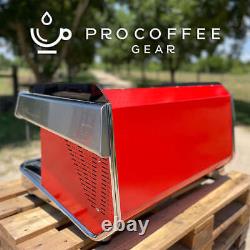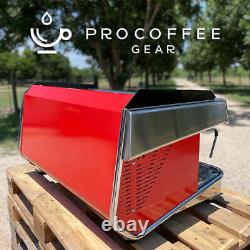 Bfc Vallelunga 3 Group Red Used Espresso Machine. The BFC Vallelunga was designed with baristas and coffee professionals in mind. Featuring four programmable shots, a semi-automatic option, temperature control, and beautiful LED lighting. Professionally Renewed per our proprietary process.
Assess - For function and condition; repair as needed. Extend lifespan - by replacing parts that will reach end-of-life within the next 5 years. Cleanse for peak performance - boiler descale & clean-rinse. Rebuild - Rebuild steam assemblies and core components. Test & Calibrate- Test for consistent function & calibrate for optimal pressure & temperature.
3 Group BFC Vallelunga espresso machine. Multi-boiler - Dedicated brew and steam boilers for consistent espresso temperature.
Volumetric Coffee Dosing - The barista pushes a programmed brew button, and the shot runs until the machine detects that the programmed amount of water has been dispensed. The design uses a thermosiphon heating circuit to pull water from the boiler to the group head and back to the boiler.
This design keeps the temperature of the heavy brass (about 9lbs of brass) group head nice and stable as well as evenly distributed across the metal in the group head. Temperature Control- The machine utilizes PID (Proportional-Integral-Derivative) controllers to regulate the temperature of the coffee boilers. The PID algorithm continuously measures the water temperature, calculates the deviation from the desired setpoint, and adjusts the heating element to maintain a consistent temperature for optimal espresso extraction. Easily fits tall sized cups and features a stainless steel sliding tray for shorter cups. 208-240V outlet - see manual instructions. Water filtration - see manual instructions. Pressure regulator may be necessary if water pressure is too high - see manual instructions. We're a little different..
All orders within the U. We're here for the long haul. We believe in'client relationships' not'customer sales'. We're rewriting the industry standards for used equipment. Pro Coffee means exacting standards at great prices.
Warranties come standard on all our equipment. Empowering The Craft of Professional Coffee. We want to help build a world where everyone can enjoy great coffee.
We've started by making high quality coffee equipment more accessible at lower prices without the typical tradeoffs of used equipment - things like wondering what's inside the pipes and whether your used machine will last 5 years or 5 months. We've designed a renewal process by working with coffee equipment part manufactures to determine the lifespan of every critical component. We even reinvented the process of descaling espresso machines, ensuring ours are the cleanest on the market - particularly on the inside, where it really matters.
We welcome your partnership and look forward to serving you on your pro coffee journey. Please professionally install equipment with proper water filtration.
We're more than happy to advise on this and carry nearly every water filtration brand.