Brand new two group tall cup Iberital espresso machine in black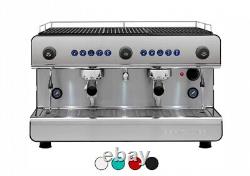 Brand new Iberital IB7 in Black. This two group tall cup machine is compact, very user friendly and reliable. Twin stem arms and hot water arm, LED downlights and backlit touchpads. It requires a mains open ended trapped waste (or a container if waste is not accessible), Mains cold water supply (machine comes with a 3/8 braided hose) and a 13 amp socket.
Contact for installation information or to arrange installation at an extra charge.