Cime Co-05 3 Group Espresso Coffee Machine Grey Cafe Commercial Restaurant Beans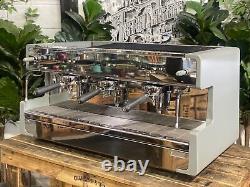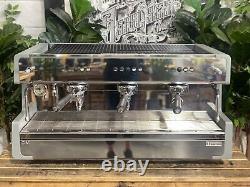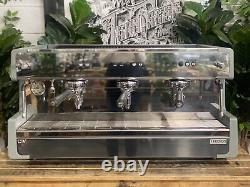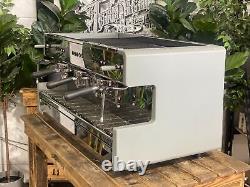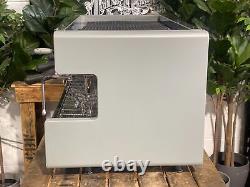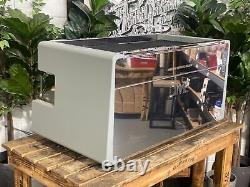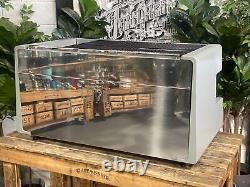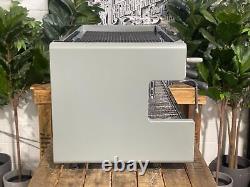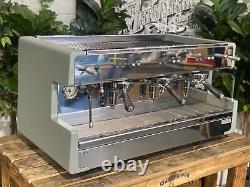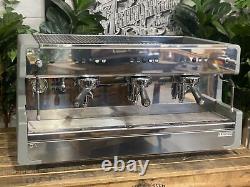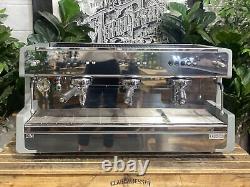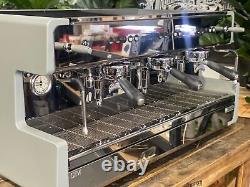 CIME CO-05 3 GROUP ESPRESSO COFFEE MACHINE GREY CAFE COMMERCIAL RESTAURANT BEANS. The Cime CO-05 3 Group Grey Espresso Machine is a perfect combination of functionality and style. The striking Grey body is sure to catch the eye in your cafe or restaurant. This coffee machine is equipped with an 18 Liter boiler capacity ensures that you always have plenty of hot water on hand for making multiple cups of coffee.
The four programmable buttons per group head on this coffee machine allow you to customize your shots and ensure consistency. The flick tap steam wands on this coffee machine makes frothing milk a breeze. The heating circulation and electronic infusion systems ensure that your coffee is brewed at the perfect temperature and with the perfect amount of pressure every time. The internal rotary pump in this coffee machine provides a consistent and reliable flow of water for the perfect espresso. This coffee machine is perfect for cafes and restaurants looking for a work horse with style.
4 Programmable Buttons Per Group Head. Automatic cleaning of the groups. Signal light detecting lack of water in boiler. Power: 6000W/25 Amp Single Phase######xA0. Dimensions: 97cm W x 54cm D x 48cm H.
For your peace of mind, this machine. Has been bench tested and serviced by our highly experienced technicians. Finance partners : Afterpay, Zip Pay, Wizpay, Grenke, Silverchef & more! As we are constantly receiving new stock, we are creating new listings daily.
######xA0; ####x200B;####x200B;####x200B;####x200B;####x200B;####x200B;####x200B; ####x200B;####x200B;####x200B;####x200B;####x200B;####x200B;####x200B. ####x200B;####x200B;####x200B;####x200B;####x200B;####x200B;####x200B;Coffee Machine Warehouse is the world####x2019;s leading supplier of espresso coffee machines & coffee equipment to the hospitality industry with over 1000 machines in stock & over 100 different brands of both new & used available.
With over 25 years experience in the coffee equipment industry you will be sure to receive a standard of service that is next to none. ####x200B;####x200B;####x200B;####x200B;####x200B; At Coffee Machine Warehouse, we are not all about the technical knowledge however. We offer a rare blend of technical expertise and superior sales service, which makes it very easy for you to define the perfect machine for your needs ####x2013; whether it is for your home, office, caf######xE9; or restaurant. We take care of everything from coffee machine selection, installation, servicing and even financing, in some cases. Our in-house coffee consultants have helped thousands of businesses over the years to take off well, and if you are just starting off, we would love to assist you in finding the most suitable equipment for your needs.
####x200B;####x200B;####x200B;####x200B;####x200B;####x200B;####x200B;####x200B;####x200B;####x200B;####x200B;####x200B;You are welcome to collect your items from our Clayton, Victoria warehouse. We ask for 1 day####x2019;s notice before collecting so we can ensure your items are ready & accessible. We have plenty of accessories, coffee & equipment available in store so ####x200B;####x200B;####x200B;####x200B;####x200B;####x200B;####x200B;collecting from us will allow you to browse our entire range.
We are available Sunday by appointment only. ####x200B;####x200B;####x200B;####x200B;####x200B;####x200B;####x200B. They will require our authorisation to redeliver so touching base with us first is the best way to organise a redelivery. We will update your tracking information the afternoon of dispatch. If your tracking shows no results, you should try again in the ####x200B;####x200B;####x200B;####x200B;####x200B;####x200B;####x200B;morning as new entries to the online portal is usually updated overnight.
What should I do if I have changed my mind and want to return a product? Please choose carefully as we do not normally accept return of goods where you have simply changed your mind or have chosen poorly.
The available remedy will depend on whether the fault amounts to a major failure. Most faults can be easily repaired within a reasonable time frame.
We will not offer a repair or replacement if the product has been damaged by misuse or abuse. Examples include but are not limited to inadequately filtered water, lime scaling, corrosion due to high chloride ion concentrations in water, operator errors, unauthorised repair work or modification and fair wear and tear.
You certainly have that option. We are happy to provide you with their relevant contact details to assist you.
La Marzocco Linea Classic 3######xA0;Group. La Cimbali M200 2 Group - New######xA0. La Marzocco FB70 3######xA0;Group. La Marzocco Linea PB 3 Group######xA0. San Remo F18 2 Group - New.
La Marzocco Linea PB 4 Group. Kees Van Der Westen Mirage 3 Group######xA0. La Marzocco Linea Classic 3 Group. La Marzocco FB80 3######xA0;Group.