CMA Astoria Plus 4 U ex Costa 2 Group Multi Boiler Commercial Coffee Machine +4U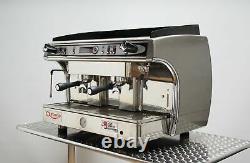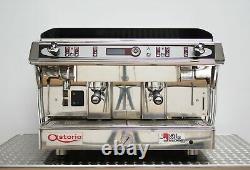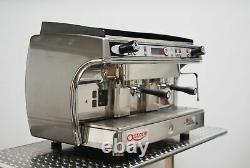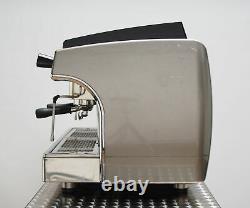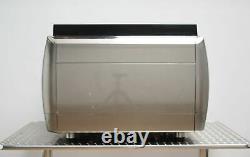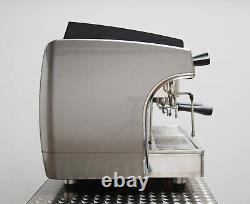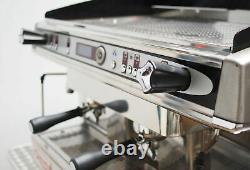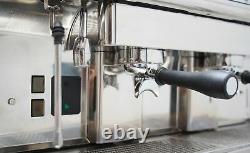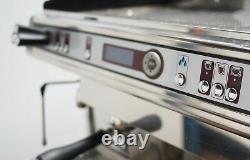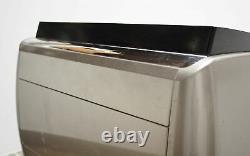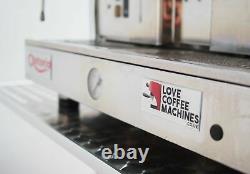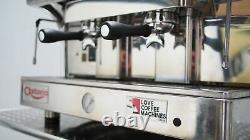 This is the brand you will see in every Costa shop and for good reason. Yes the Italian style is obvious, but the quality of the drinks these machines can optimally produce and the inherent reliability built into these machines is terrific.
Known as the'Futura' for their multi boiler technology providing different boilers for the coffee and steam which translates into better coffee and uses much less electricity, up to 47.6% the specs say. Also just see how heavy they are, that's due to the quality of build, simply put quality machines simply weigh more! Lastly the serviceability, which isn't normally thought of until needed but its something to consider. As Astoria is used around the country service engineers are familiar with their upkeep so that when you find you need a service, you can easily find assistance..
This example is vibrant with gleaming chrome finishes and while used it is in very nice condition. Some light scratches and marks from use but not much to comment on, she does look very impressive with all that performance....
Please see extensive photos, as they say'a picture says a thousand words! Workshop prepared, simply reworked and reloved!
You can see that level of preparation in the pictures and we understand how these machines are styled to be shown off. This process will take around three days to complete with the machine having the boiler and pipes removed to descale before being rebuilt.
Apart from being fully serviced, tested and checked throughout, you have the reassurance that this machine is fitted with a new certified safety valve. Even before supply the machine is taken back into the workshop for heat soak testing, calibration and we enjoy making a coffee before wishing her farewell. All this endeavour is to ensure you receive a machine which will be easy to set up out of the box and will serve you well for years to come. These units have different boilers for each of the functions - three in total. Each head has its own while the hot water and steam have their own, much larger dedicated boiler. A so say'normal' machine would have just one, but this isnt your average machine.
This means you get lots of steam and hot water - perfect for great coffee and happy customers and most importantly the hot water and steam production doesn't affect the coffee. No more running your hot water down, losing temperature and then finding you cant make any shots.
The digital display shows rather more than simply the temperature and pressure. One can opt to set the display to show shot timings so you can easily refer to it making sure that your extraction is spot on. With this multiboiler using this interface you have the option to set each head temperature individually, this means that you can optimise different coffees using different heads. Furthermore when its quiet you can you can have the option to set individual heads to switch off after a specified period of time.
When required you touch a button and they quickly heat up ready for service. This is simply to save electricity which has become more and more expensive as of late. Perhaps we should view this like the maximum range of an electric car but I think an owner should enjoy using a third less electricity. Supplied with two double group handles and a backflushing plate together with water and waste pipes for connection to services. We have also included a single basket and spout in case single shots are required and a pod basket to cover all bases.
We've also included two extra single stainless steel foaming jugs! Requires a single phase, 32amp connection, standard water connection and ideally a waste connection too. This unit comes with an internal pump for space efficiency. We also have a copy of the original manual to assist with the operation of the machine, programming and routine maintenance. A fraction of the price new for a great machine with pedigree, performance, reliability with great electrical economy. 2 Group Specifications & Service Requirements. Heating element of coffee water reservoir per group (W). Coffee water reservoir capacity (litres). 40mm Gravity Drain with U trap and Upstand. The new Astoria Plus4You is the latest espresso machine developed to meet the growing demands of the barista, the roaster & the environment. Power saving up to 47.6%. Plus 4 You helps you save energy. It is the first-born of the Green Line, a line of energy saving espresso machines by Astoria, which allows you to save up to 47.6% on energy and therefore on your electrical bill.
Plus 4 You only carries power when and where it is specifically required. The dedicated innovative software manages the automatic stand-by mode during non-peak periods and at night, as well as the intelligent control of temperature settings. Plus4You fully satisfies the barista & the roaster. Plus4You grants you maximum quality in the cup and flexibility to adjust the machine according to the coffee origin/blend. Different roast profiles require specific extraction temperatures for the best results in the cup.
The water reservoirs are dedicated exclusively to coffee. You can regulate the temperature of each group independently according to the origin/blend. Temperature stability is within one degree.
The steam boiler is dedicated exclusively to steam and hot water. Plus4You intelligent system compares the extractions of every espresso.
If coffee extraction is not perfect e. Due to incorrect grind/tamping etc. , the barista receives instant detailed information on the coffee he has just prepared. Plus4You suggests via the LCD display the appropriate corrective actions. Plus4You is the first eco-espresso machine in the Astoria Green Line range, a range of energy saving espresso machines which allows you to save up to 47.6% on your power bill as well as reducing carbon emissions. Most espresso machines waste enormous amounts of energy during off peak periods and when left on overnight. Plus4You only carries power when and where it is specifically required, thus saving energy. The integrated PID manages the automatic stand-by mode during off peak periods and at night, as well as the intelligent control of temperature settings.
Settings can be easily programmed via the arrow keys and LCD display located on the push button panel (no need to open machine). Adjusting the settings takes only seconds. Steam boiler and one coffee water reservoir for each group. Electronic temperature control of the coffee water reservoir.
Electronic temperature control of the steam boiler. Electronic temperature control of each groups. Display showing the pressure of volumetric pump. Display showing the ambient humidity. Display of water pressure in the hydraulic circuit. Programming of the washing cycles. RENEWED & RELOVED ESPRESSO MACHINES. CMA Astoria Plus 4 U ex Costa 2 Group Multi Boiler Commercial Coffee Machine +4U.
You are also welcome to collect or if you wish, we can wrap and palletise in preparation for your courier without cost. We aim to be frank in assessment.
All items must be installed by a qualified person i. Engineer, electrician, plumber or gas fitter and tested by them prior to use.
If service and remedial work is required it must be performed by a qualified individual or firm. The word'refurbished' is rather misused generally when a clean or a simple front end service seems to be the interpretation. For us the word means that a machine will be poured over by an engineer for a process taking about three days.
After removing all the panels, the boiler and pipes will be carefully disconnected, taking the machine to the chassis. The boiler and pipes will be descaled, an essential process for reliability, before being polished. Then the machine is carefully reassembled complimented with a new certified boiler pressure valve.
The panels then are cleaned and polished so they look stunning resulting in the machine looking great, from both the inside and the outside! Then the machine is run and thoroughly tested before being photographed and made ready for a new customer. By doing all this our aim is to exceed your expectation, providing you with a machine for years worth of trouble free service which is why we enjoy many clients coming back again and again.
We also stock and can advise on refurbished grinders, regenerated water filters and all the ancillaries you may need for your operation. With many years of experience if you aren't sure, please just ask. Astoria Valina Plus 4U Coffee Machine +4U (3Group) - Chrome & Deep Glossy Black! CMA Astoria Plus 4 U ex Costa 3 Group Multi Boiler Commercial Coffee Machine +4U.
Astoria Vintage 3grp ex Costa Commercial Coffee Machine - Red & Simply Wow! Astoria Vintage 3grp ex Costa Commercial Coffee Machine - Morello Cherry Red. Listing and template services provided by inkFrog. The item "CMA Astoria Plus 4 U ex Costa 2 Group Multi Boiler Commercial Coffee Machine +4U" is in sale since Monday, August 30, 2021. This item is in the category "Business, Office & Industrial\Restaurant & Food Service\Bar & Beverage Equipment\Commercial Coffee, Cocoa & Tea Equipment\Coffee & Espresso Machines\Cappuccino & Espresso Machines". The seller is "lovecoffeemachines" and is located in Bristol. This item can be shipped to United Kingdom.
Brand: Astoria
Unit Quantity: 1
Power: More than 1500W
Type: Espresso Machine
Water Supply: Mains Connection