Kees Van Der Westen Mirage 3 Group Espresso Machine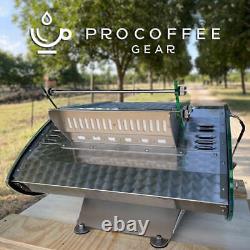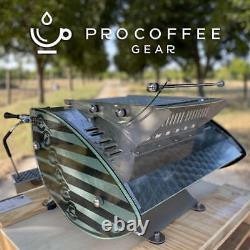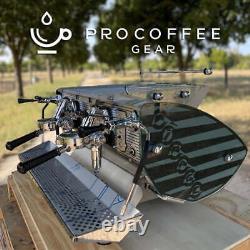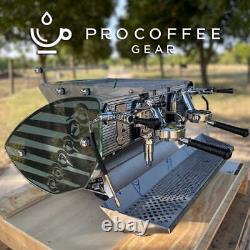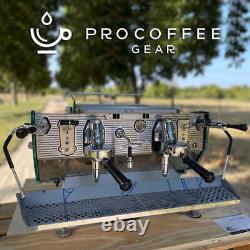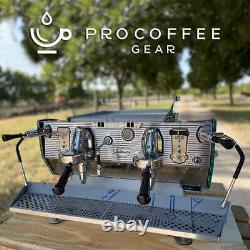 Kees Van Der Westen Mirage 3 Group Espresso Machine. The Kees Van Der Westen Mirage. The Mirage is built by Kees Van Der Westen in the Netherlands, providing machines beloved by those in the industry. Stainless steel construction includes several easy-to-use features of operation such as their batone levers and foot activated steam valve.
Thermo-syphon style heating system consists of one large copper boiler and is equipped with a heat-exchanger for each group. Beautifully built and designed, this is an awesome E61 HX machine for any cafe. You'll be greeted to excitement each morning when arriving at the cafe to use this striking piece of equipment. Volumetric coffee doses - 4 programmable shot volumes and one continual dose per group head. Progressive pre-infusion cylinder - For more consistent extraction and minimized channelling in the coffee puck.
Electronic temperature control system - boiler pressure is programmable on LCD screen and utilizes a PID, improving steam pressure and extraction temperature stability. Glass side panels - striking 10mm thick glass with sandblasted Mirage design. Batone levers - program two doses to easily activate brewing, also a continuous does button. Foot activated steam valve - hands free steam control using the reactive pedal.
Flip flop steam valves - enhanced ergonomics and ease of use. 220-240V outlet - see manual instructions. Water filtration - see manual instructions. Pressure regulator may be necessary if water pressure is too high - see manual instructions. We're happy to advise on any of the above requirements.
We're a little different.. All orders within the U.
We're here for the long haul. We believe in'client relationships' not'customer sales'. We're rewriting the industry standards for used equipment.
Pro Coffee means exacting standards at great prices. Warranties come standard on all our equipment. Empowering The Craft of Professional Coffee. We want to help build a world where everyone can enjoy great coffee. We've started by making high quality coffee equipment more accessible at lower prices without the typical tradeoffs of used equipment - things like wondering what's inside the pipes and whether your used machine will last 5 years or 5 months.
We've designed a renewal process by working with coffee equipment part manufactures to determine the lifespan of every critical component. We even reinvented the process of descaling espresso machines, ensuring ours are the cleanest on the market - particularly on the inside, where it really matters.
We welcome your partnership and look forward to serving you on your pro coffee journey. Please professionally install equipment with proper water filtration.
We're more than happy to advise on this and carry nearly every water filtration brand.