La Cimbali M100 3 Group Refurbished Black 3 Group Used Espresso Machine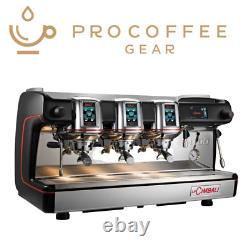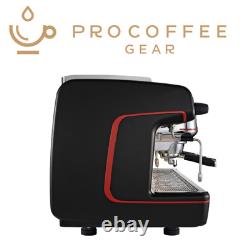 La Cimbali M100 3 Group Refurbished Black 3 Group Used Espresso Machine. The La Cimbali M100 GTA. With its strong horizontal lines, clean surfaces, and low profile, you can always face your customers.
But the M100 GTA it's not all just aesthetics. With its modern user-friendly features like Smart Boiler technology, remote monitoring, cool touch steam wands, new interfaces and a modern design, it is a reliable machine that allows you to offer quality espresso to all customers. Professionally Renewed per our proprietary process. Assess - for function and condition; repair as needed.
Extend lifespan - by replacing parts that will reach end-of-life within the next 5 years. Cleanse for peak performance - boiler descale & clean-rinse. Rebuild - Rebuild steam assemblies and core components. Test & Calibrate - Test for consistent function & calibrate for optimal pressure & temperature. Multi-boiler - set three independent temperatures for the steam boiler, the brew boiler, and the saturated group head.
Cool touch steam wand - allows the barista to froth the milk in jars of any size, it also avoids burns, and facilitates cleaning. Patented Smart Boiler software -to enable a constant maximum steam and water supply. USB port - to make updating your machine much easier. HD System - so you can personalize pressure profiles for each group selection button. La Cimbali M100 GTA 2 Group Espresso Machine. 208-230V outlet - see manual instructions. Water filtration - see manual instructions. Pressure regulator may be necessary if water pressure is too high - see manual instructions.
We're a little different.. All orders within the U. We're here for the long haul. We believe in'client relationships' not'customer sales'.
We're rewriting the industry standards for used equipment. Pro Coffee means exacting standards at great prices. Warranties come standard on all our equipment.
Empowering The Craft of Professional Coffee. We want to help build a world where everyone can enjoy great coffee. We've started by making high quality coffee equipment more accessible at lower prices without the typical tradeoffs of used equipment - things like wondering what's inside the pipes and whether your used machine will last 5 years or 5 months. We've designed a renewal process by working with coffee equipment part manufactures to determine the lifespan of every critical component. We even reinvented the process of descaling espresso machines, ensuring ours are the cleanest on the market - particularly on the inside, where it really matters. We welcome your partnership and look forward to serving you on your pro coffee journey. Please professionally install equipment with proper water filtration. We're more than happy to advise on this and carry nearly every water filtration brand.