La Marzocco Fb70 3 Group Black Used Espresso Machine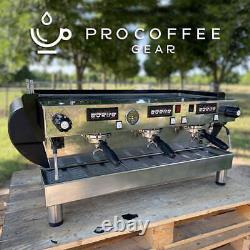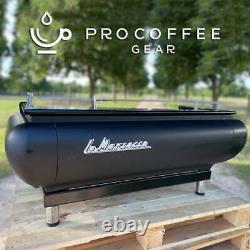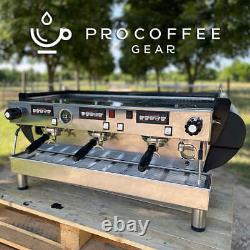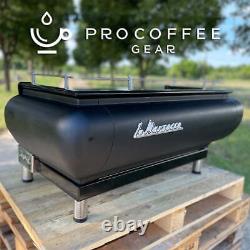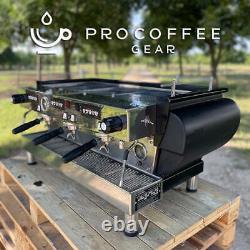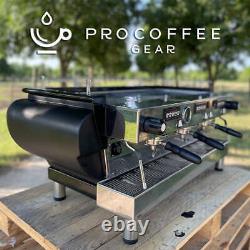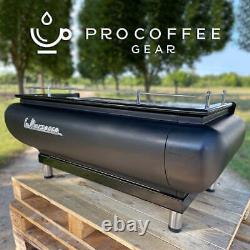 La Marzocco Fb70 3 Group Black Used Espresso Machine. Pro Coffee Gear is proud to present this La Marzocco FB70 3 Group commercial espresso machine in Black color. This machine features twin PID's which has brought this machine with modern PID controlled espresso machines today.
A dynamic preheater assembly ensures that water entering the coffee boiler is at precisely 170° F. 170° F water replaces hot water exiting the group, reducing temperature swings in the coffee boiler. A group cap designed, and an integrated ruby flow restrictor reduces channeling and ensures that water never leaves the saturated area of the coffee boiler, eliminating the introduction of temperature instability during the brewing process. Professionally Renewed per our proprietary process.
Assess - for function and condition; repair as needed. Extend lifespan - by replacing parts that will reach end-of-life within the next 5 years. Cleanse for peak performance - boiler descale & clean-rinse. Rebuild - rebuild group heads and steam assemblies. Test & Calibrate - Test for consistent function & calibrate for optimal pressure & temperature.
La Marzocco FB70 3 Group Commercial Espresso Machine. Dual Boiler System- Allows simultaneous brewing and steaming, ensuring optimal temperature stability and efficient workflow. High-Grade Stainless Steel Construction- Built to last with durable materials, ensuring long-term reliability and performance. Multi-directional Stainless Steal Wands- Allows baristas to achieve optimal positioning and control while frothing milk, regardless of the angle or size of the milk pitcher. PID temperature controller - Ensures that the water remains at the optimal temperature consistently, allowing for accurate and repeatable extraction of espresso shots.
Volumetric control - program espresso shots by volume, automating workflow and ensuring shot consistency. 220V outlet - see manual instructions. Water filtration - see manual instructions. Pressure regulator may be necessary if water pressure is too high - see manual instructions. We're happy to advise on any of the above requirements. We're a little different.. All orders within the U.
We're here for the long haul. We believe in'client relationships' not'customer sales'. We're rewriting the industry standards for used equipment.
Pro Coffee means exacting standards at great prices. Warranties come standard on all our equipment. Empowering The Craft of Professional Coffee.
We want to help build a world where everyone can enjoy great coffee. We've started by making high quality coffee equipment more accessible at lower prices without the typical tradeoffs of used equipment - things like wondering what's inside the pipes and whether your used machine will last 5 years or 5 months. We've designed a renewal process by working with coffee equipment part manufactures to determine the lifespan of every critical component. We even reinvented the process of descaling espresso machines, ensuring ours are the cleanest on the market - particularly on the inside, where it really matters. We welcome your partnership and look forward to serving you on your pro coffee journey.
Please professionally install equipment with proper water filtration. We're more than happy to advise on this and carry nearly every water filtration brand.