La Marzocco Linea Pb 2 Group Coffee Espresso Machine & Mazzer Bean Grinder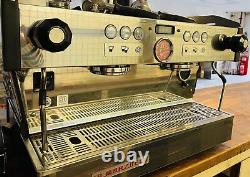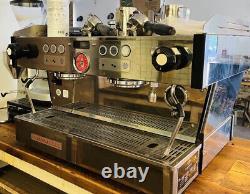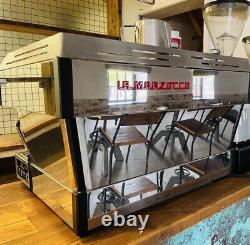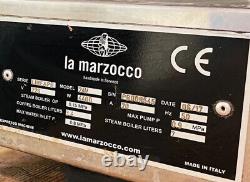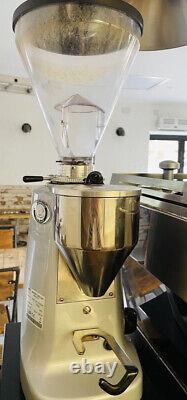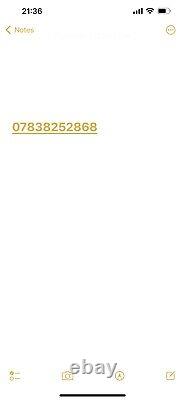 APOLOGIES FOR THE POOR PICTURE QUALITY, WILL TRY TO ADD BETTER PICTURES LATER. WILL THROW IN THE MAZZER COFFEE BEAN GRINDER FOR FREE. La Marzocco Linea PB S AV (2 group) - a la marzocco classic, re-imagined. In crafting the Linea PB, Piero Bambi refined and sharpened design elements and fine-tuned performance features that made the Linea Classic a specialty coffee icon. The Linea PB, designed by and named in recognition of Piero Bambi, introduces a new level of performance, reliability, and craftsmanship that carries the Linea into the future in a manner that is familiar, yet also fresh and new.
The Linea PB features the iconic La Marzocco polished stainless steel body, updated with simplified lines and a lower profile, equipped with exclusive, user friendly interface software that gives the barista direct functional control over boiler temperature, brewing volume, hot water tap dose, auto-back flush as well as other options. Saturated Groups: ensure unsurpassed thermal stability, shot after shot. Dual Boiler System: separate boilers optimize espresso brewing and steam production.
Dual PID (coffee and steam): allows you to electronically control coffee and steam boiler temperature. Insulated Boilers: reduce energy consumption while contributing to temperature stability. Eco Mode: can be programmed to enter stand-by mode, improving energy efficiency.
USB: making it possible to update firmware. Programmable Doses - Auto-volumetrics ensure repeatability and consistency in high-volume settings. Stainless Steel Portafilters & Precision Baskets: for improved cup quality and consistency. Digital Display: temperature display, shot timers, flow pulse counter and intuitive programming simplifies the adjustment of machine parameters. Auto Back-flush Program: automatic cleaning program.
DIMENSIONS 92 × 76 × 86 cm. THIS IS A BANK TRANSFER / CASH ON COLLECTION SALE FEOM LEICESTER. HAPPY TO ARRANGE VIEWINGS FOR ANY SERIOUS BUYERS, NO TIME WASTERS PLEASE.