La San Marco 105 Touch 3 Group Commercial Espresso Machine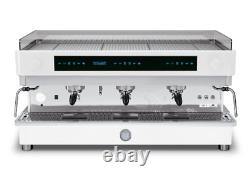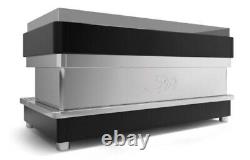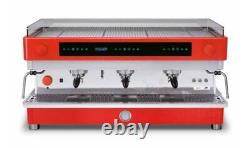 NOTE: PLEASE CONTACT FIRST FOR AVAILABILITY PRIOR TO ORDERING. Coffee Machine Depot USA is proud to present this La San Marco 105 Touch 3 Group commercial coffee espresso machine. The NEW 105 Series features are enhanced using smudge-proof stainless steel and chrome-plated panels, which when combined create a mirror-finish effect. The optional perfectly illuminated work surface creates a scenic effect that harmoniously blends in with all types of interior decor.
This machine is ready to be the star of your cafe! 2 hours of barista training at our Los Angeles shop. Coffee Machine Depot USA Barista Training Guide. We love to hear from our customers! We have financing available for approved purchasers.
Touch screen control panel with 4 programable buttons per group head. Automatic on/off programming (daily and weekly). Height (in): 20.27 in. Width (in): 40.55 in.
Depth (in): 21.06 in. Coffee Boiler size (liters): 19. Certification: ETL/ Conforms to NSF standards. La San Marco 105 Touch 3 Group Commercial Espresso Machine. WE HAVE OVER 400 MACHINES & GRINDERS IN STOCK WITH 100 ADDITIONAL MACHINES ARRIVING EVERY 4. Your order will be delivered curbside on a full size 18 wheeler. Bringing it into your location. Keep the damaged packing materials for inspection. Take pictures of the damaged items and packaging. Please see specific products for more detail on lead times. Estimated arrival dates are not guaranteed.
You will receive order updates with tracking information as they become available. Rest assured, every item is thoroughly padded to protect against bumpy travel. New Year's Eve Day. Coffee Machine Depot is the number one dealer of New and Refurbished commercial espresso equipment in the United States. Our goal is to provide our customers with quality products at a competitive price.
We care about what you need, and if you don't know what that is we can help you figure it out. If you are starting a new business, looking to add to the services your bisness already provides, or simply looking to make a quality cup of coffee at home, we are here for you!
Not the machine you want? We have hundreds of machines in stock, so give us a call today if there is a specific machine you want. Not local to Los Angeles, or even California? Are you located outside the United States?
We tailor make packages to suit each customer####x2019;s requirements and budgets. Inquire now about supplying your clients with our equipment for excellent package pricing.
We can also help organize competitive finance rates. Installation Guide for Espresso Machine & Grinder. The below information is a great reference and should be used as a guide when installing a commercial espresso machine and grinder. We suggest a dry, well ventilated work bench, this should be approx 32####x201D; - 45####x201D; high, with 6####x201D; clear space around the machine to allow for cleaning and maintaining the machine. Please do not forget to allocate an area for your grinder which is usually on the right side for right handed Baristas.
Under the machine you should dedicate an open space of approx 17 x 17 x 12 (In w x h x d) for your filter and an external motor and pump (This is for machines that have external pumps) Rancilio do not have external pumps. In order to connect of these up it is advisable to have a 3####x201D; hole drilled your bench, for water pipes and electricity cables. This hole should be set for the middle of the machine.
You need to engage a licensed plumber to install a cold water outlet which is easily accessible. Most espresso machine inlet hoses terminate in a 3/8####x2033; female fitting which will connect directly to a filter. We recommend that the water supply enter low on either side and near to the back surface within 40####x201D; of the machine. Always use a licensed electrical contractor to connect your espresso machine and grinder. Your espresso machine will require a 220 - 240 Volt single-phase supply with the specific current protection ratings as per machine specifications.
Espresso machines generally have a 40####x201D; lead coming out from the rear left side. Therefore the GPO should be located near the left side. Many caf######xE9; owners have a power supply installed below the machine in the service area and therefore run the cable from the machine through the hole in the bench for water and drainage. IMPORTANTLY if your power or isolating switches are located in areas affected by water it is compulsory to install weatherproof power switches.
The majority of commercial espresso machines will generally require a minimum 15A ####x2013; 30A power supply. Some multi boiler 3 ####x2013; 4 group machines may require a 40amp outlet to be installed. Single group domestic (home) machines require 10A and 110v outlet. In these circumstances, we recommend having a licensed electrician install a dedicated circuit for your espresso machine. For your commercial grinder these can either run on 110V or 240V and be anywhere between 10A ####x2013; 20A.
Please note that it is not un common for a commercial coffee machine direct from the factory to be delivered without a plug and therefore it would be the responsibility of your licensed electrician to install and supply a suitable plug. A drain-pipe with trap is required which will allow for direct drainage. 99% of the time a drain hose from machine to trap will be provided with your machine and these are usually 30####x201D; ####x2013; 40####x201D. INTRODUCTION: These terms of use (####x201C;Terms####x201D;) set forth the binding agreement between United Global Coffee Solutions, Inc. (dba ####x201C;Coffee Machine Depot USA####x201D;) on behalf of itself and its affiliates and subsidiaries (collectively ####x201C;Company####x201D;) and you, and describe the rules and conditions by which you agree to upon purchasing a product or service from Company. These rules and conditions also govern your use of any website, Facebook site, mobile app, or other social media channel owned and/or operated by Company now or in the future (collectively and individually, the ####x201C;Site####x201D;). The products and services for sale and the Site itself are owned and controlled by the Company. By purchasing a product or service and/or using the Site, you agree to be bound by these Terms and any additional terms that may be posted for any specific Company Site. Company reserves the right to modify or change these Terms from time to time, at Company####x2019;s sole discretion, without prior notice to you. Please periodically visit this section of the Site to review the current version of these Terms. By purchasing a product or service and/or using the Site, you agree to the most current version of the Terms and any and all future changes that may be placed in effect. You also agree to comply with any additional terms which are referred to on this Site or any area within the Site. BY PURCHASING A PRODUCT OR SERVICE AND/OR USING THE SITE, YOU ACKNOWLEDGE THAT YOU HAVE READ AND UNDERSTAND THIS AGREEMENT AND AGREE TO BE BOUND BY ITS TERMS. INFORMATION ABOUT ITEMS: Company uses commercially reasonable efforts to describe its products accurately. However, Company does not warrant that the product descriptions or other content of its Site are accurate, complete, reliable, current, or error-free. This includes, but is not limited to UL, CE, FCC, and/or NSTL certification. Through the act of purchasing products or services from the Company and/or using the Site, you represent that you understand there is a possibility the product you are purchasing might not have any electronic products testing certification. Furthermore, neither the Site owner nor any third party or data or content provider shall be liable in any way to you or to any other person, firm or corporation whatsoever for any loss, liability, damage (whether direct or consequential), personal injury or expense of any nature whatsoever arising from any delays, inaccuracies, errors in, or omission of any information or the transmission thereof, or for any actions taken in reliance thereon or occasioned thereby or by reason of non-performance or interruption, or termination thereof. Company does not make any warranties or representations regarding the products and services it sells, nor the use of the materials in this Site in terms of their correctness, accuracy, adequacy, usefulness, timeliness, reliability or otherwise. LIMITS ON WEBSITE USE: Company grants you a personal, limited, non-exclusive, non-transferable, revocable license to install and use any proprietary software necessary to use the Site, including any updates and enhancements, in object code form, including on your mobile device, if necessary (the ####x201C;License####x201D;). Except as otherwise expressly provided, Company grants no other express or implied rights to you in regard to the Site. The License granted to you may not be sublicensed, commercially distributed, or shared with any third party without the prior written consent of Company. Except for information, products or services clearly and specifically identified as being supplied or endorsed by Company, Company does not endorse any products or services on this Site or other sites linked to or from it.
Company may add, change, or remove any content posted on this Site, including features and specifications of products described or depicted on the Site, at any time, without notice and without liability. The collective work includes works that are licensed to Company. Permission is granted to electronically copy and print hard copy portions of this Site for the sole purpose of placing an order with Company or purchasing Company####x2019;s products or services. Any other use, including but not limited to the reproduction, distribution, display or transmission of the content of this Site is strictly prohibited, unless expressly authorized by Company. You further agree not to change or delete any proprietary notices from materials downloaded from the Site.
ENFORCEABILITY: Unless otherwise specified, the Site and the content thereof are displayed solely for the purpose of promoting Company and its products and services. These Terms shall be construed in accordance with the laws of the State of California, U. Without regard to any conflict of law provisions. Any dispute arising under this Agreement shall be resolved exclusively by the state and/or federal courts of the State of California, U.
By purchasing a product or service and/or using this Site, you agree and submit to the personal jurisdiction and venue of such courts. You agree that in the event you have or may have any alleged claim against Company or any of its vendors, contractors, licensees, or licensors, you shall pursue such claim only in your individual capacity, and you shall not agree to join or be a part of any class action, consolidated action, or similar action. TERMINATION: These Terms are applicable to you upon purchasing a product or service and/or upon your accessing the Site and/or completing the registration or shopping process. These Terms, or any part of them, may be terminated by Company without notice at any time, for any reason. Listing and template services provided by inkFrog.
This item is in the category "Business & Industrial\Restaurant & Food Service\Bar & Beverage Equipment\Commercial Coffee, Cocoa & Tea Equipment\Coffee & Espresso Machines\Cappuccino & Espresso Machines". The seller is "coffeemachinedepotusa" and is located in this country: US. This item can be shipped worldwide.
Color: Matte Black
Brand: La San Marco
Features: Steam Wand
Model: 105 Touch
Country/Region of Manufacture: Unknown
Supply Type: Coffee Beans
Material: Stainless Steel
Type: Espresso Machine
Weight: 179 lbs
Wattage: 5500 W
Coffee Boiler Size: 19 Liters
Voltage: 240 Volts