Rancilio Classe 11 Usb Xcelsius 2 Group Black Espresso Machine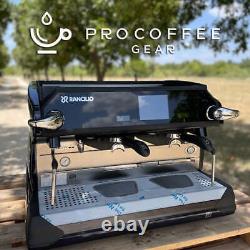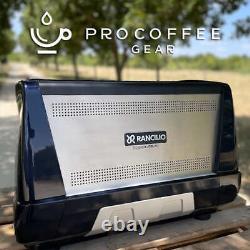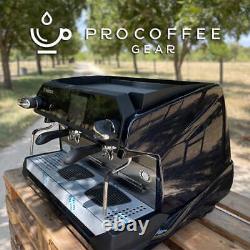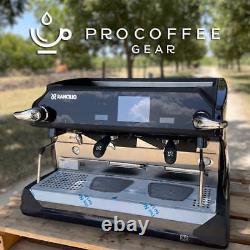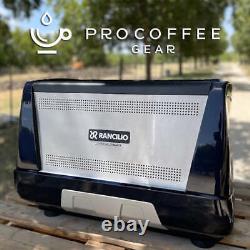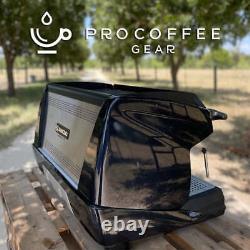 Rancilio Classe 11 Usb Xcelsius (overstock) 2 Group Black Espresso Machine. Rancilio Classe 11 USB Xcelsius. Xcelsius is an industry driving innovation that permits baristas to control the beginning and completing the process of blending temperature. The Xcelsius framework empowers the temperature of the water to be set to increment or lessening to 5°C (9°F) during the 25-30 seconds it takes for the shot to pour. Brewing on an upward or downward temperature curve highlights or subdues certain flavor notes in a way that is not possible with any other espresso machine.
Xcelsius highlights the most dependable steady blending temperature that draws out each particular character qualities of any espresso bean. Multi-boiler - set three independent temperatures for the steam boiler, the brew boiler, and the saturated group head. Xcelsius Temperature Profiling technology - allows baristas to bring out the best in the organoleptic characteristics of any coffee, thanks to the dynamic regulation of the water temperature during the extraction phase. Volumetric Control - programmable volumetric controls per group for a simple and consistent workflow. X-TEA - this heated water temperature control framework for tea and mixtures offers three distinct programmable temperatures. Hot and cold water are mixed electronically to obtain the desired temperature. ABM - is a specific software developed to improve the performance of the machine in conditions of intensive use. C-Lever - The Rancilio patent steam valve and ergonomic control handle offers advantageous open-stay and open-close capacities.
Turn the handle upwards for an open-stay valve position or turn the handle downwards to physically control the steam power. Cup warmer - an exceptional warming component with five degrees of controlled warmth on the highest point of the machine to keep cups hot. Cool touch steam wand - The cool touch steam wand is thermally insulated with a double protective coating.
Ergonomic Portafilter - The portafilter is fitted with an ergonomic handle, designed to allow baristas to move wrists smoothly for maximum comfort. Automated every day cleaning program.
220-240V outlet - see manual instructions. Water filtration - see manual instructions. Pressure regulator may be necessary if water pressure is too high - see manual instructions.
We're happy to advise on any of the above requirements. We're a little different.. All orders within the U. We're here for the long haul.
We believe in'client relationships' not'customer sales'. We're rewriting the industry standards for used equipment. Pro Coffee means exacting standards at great prices. Warranties come standard on all our equipment.
Empowering The Craft of Professional Coffee. We want to help build a world where everyone can enjoy great coffee.
We've started by making high quality coffee equipment more accessible at lower prices without the typical tradeoffs of used equipment - things like wondering what's inside the pipes and whether your used machine will last 5 years or 5 months. We've designed a renewal process by working with coffee equipment part manufactures to determine the lifespan of every critical component. We even reinvented the process of descaling espresso machines, ensuring ours are the cleanest on the market - particularly on the inside, where it really matters. We welcome your partnership and look forward to serving you on your pro coffee journey. Please professionally install equipment with proper water filtration.
We're more than happy to advise on this and carry nearly every water filtration brand.