Rancilio Classe 5 Usb 3 Group Espresso Machine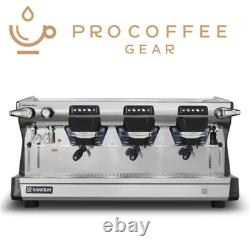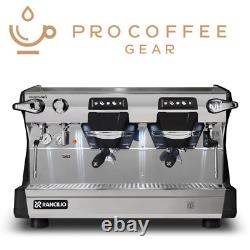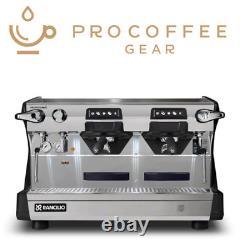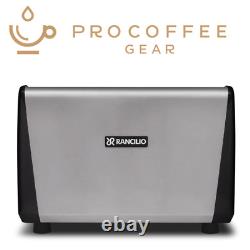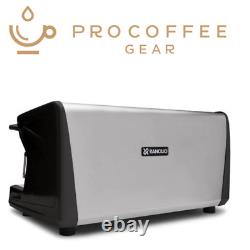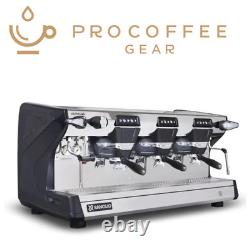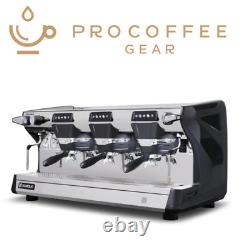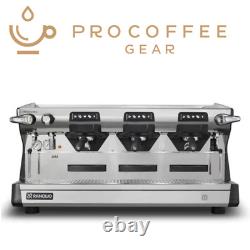 Rancilio Classe 5 Usb 3 Group Espresso Machine. Industrially inspired functional minimalism and contemporary aesthetics are the strong points of Classe 5. A machine that transforms basic essentials and elegance into distinctive personality traits. Modern and sophisticated side panels, ample group covers and an ergonomic working area guarantee baristas comfort and convenience. The Metal Dome technology applied to the keypad ensures a pleasant, harmonious touch sensation.
Volumetric Control - 4 programmable volumetric controls per group for a simple and consistent workflow. Auto-Volumetric - Built-in volumetric pump. Independent Heat Exchangers - Each group head pulls from its own heat exchanger for consistent shot-to-shot heat.
C-Lever - The Rancilio patent steam valve and ergonomic control handle offers advantageous open-stay and open-close capacities. Two manual steam wands - for frothing and steaming milk. Boiler and pump pressure control gauges. SB version - The technological solution that revolutionises Rancilio coffee machines' hydraulic system.
By keeping water temperature steady, it guarantees maximum repeatability during extraction. Tall version - has a taller working area and can accommodate cups up to 14.5 cm in height.
It also features an extractable rise plate for traditional espresso cups. ISteam - Intelligent steam wand that consequently infuse air and turns off at the appropriate temperature to make the ideal milk for cappuccinos and lattes. Cup Warmer - The cup warmer has five temperature levels settable via touchscreen interface and guarantees optimal heating distribution across the grid. 220-240V outlet - see manual instructions. Water filtration - see manual instructions.
Pressure regulator may be necessary if water pressure is too high - see manual instructions. We're happy to advise on any of the above requirements.
We're a little different.. All orders within the U. We're here for the long haul. We believe in'client relationships' not'customer sales'. We're rewriting the industry standards for used equipment.
Pro Coffee means exacting standards at great prices. Warranties come standard on all our equipment. Empowering The Craft of Professional Coffee. We want to help build a world where everyone can enjoy great coffee. We've started by making high quality coffee equipment more accessible at lower prices without the typical tradeoffs of used equipment - things like wondering what's inside the pipes and whether your used machine will last 5 years or 5 months.
We've designed a renewal process by working with coffee equipment part manufactures to determine the lifespan of every critical component. We even reinvented the process of descaling espresso machines, ensuring ours are the cleanest on the market - particularly on the inside, where it really matters. We welcome your partnership and look forward to serving you on your pro coffee journey.
Please professionally install equipment with proper water filtration. We're more than happy to advise on this and carry nearly every water filtration brand.