Rancilio Specialty Rs1 3 Group Steel Espresso Machine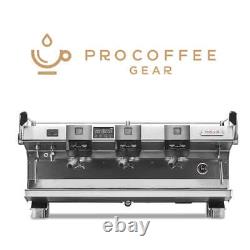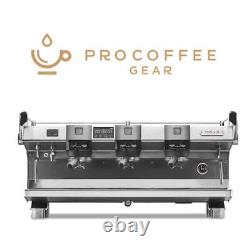 Rancilio Specialty Rs1 3 Group Steel Espresso Machine. The RS1 features innovative brewing through stainless steel groups that contain a micro-boiler and two heating elements, keeping the temperature stable throughout the brew cycle. This machine shows off both impressive design and superior usability through a classic multi-boiler paired with programmable temperature controls and volumetrics. Resulting in a better cup profile.
Baristas to adjust the temperature of the water dispensed during espresso extraction by up to 5°C (9°F). Each stainless steel group contains a micro-boiler and two heating elements. Maintains the thermal performance of the machine, even when simultaneously brewing espresso and steaming milk, and allows different temperatures to be set for each group head.
The barista can vary the water pressure both in the initial stage (pre-infusion) and in the final stage (post-infusion) of the extraction process, choosing between mains pressure or pump pressure, and adjust the duration of both stages. Touchscreen and group head with dedicated display. It is equipped with dedicated displays for each group with dispensing stopwatch and extraction temperature.
2-Stage Steaming- The RS1's programmable steam pressure is excellent for adding a little more control to milk texturing. 220-240V outlet - see manual instructions. Water filtration - see manual instructions. Pressure regulator may be necessary if water pressure is too high - see manual instructions. We're happy to advise on any of the above requirements. We're a little different.. All orders within the U. We're here for the long haul. We believe in'client relationships' not'customer sales'. We're rewriting the industry standards for used equipment. Pro Coffee means exacting standards at great prices. Warranties come standard on all our equipment. Empowering The Craft of Professional Coffee. We want to help build a world where everyone can enjoy great coffee. We've started by making high quality coffee equipment more accessible at lower prices without the typical tradeoffs of used equipment - things like wondering what's inside the pipes and whether your used machine will last 5 years or 5 months. We've designed a renewal process by working with coffee equipment part manufactures to determine the lifespan of every critical component. We even reinvented the process of descaling espresso machines, ensuring ours are the cleanest on the market - particularly on the inside, where it really matters.
We welcome your partnership and look forward to serving you on your pro coffee journey. Please professionally install equipment with proper water filtration. We're more than happy to advise on this and carry nearly every water filtration brand.