Rocket Espresso Re Doppia 3 Group Espresso Machine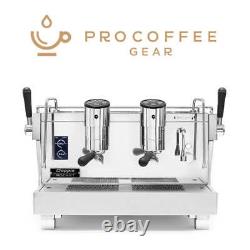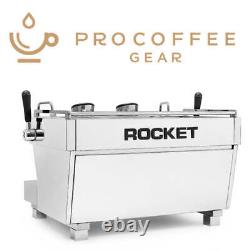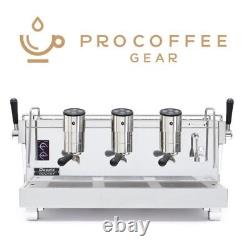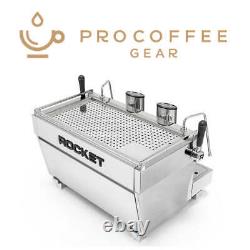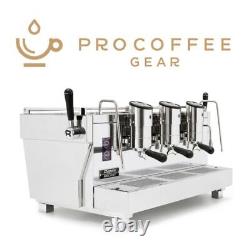 Rocket Espresso Re Doppia 3 Group Espresso Machine. Built with electronically-controlled steam and brew boilers, the Rocket RE Doppia brings extra heat stability and control to your coffee shop countertop.
Built with electronically-controlled steam and brew boilers, coupled with Rocket Espresso's keen eye for ergonomics-insulated steam wands, volumetric shot controls, and automatic backflush programming- the RE Doppia will help baristas keep up with the demands of the busiest morning rush. Dual Boilers - dedicated brew and service boilers to help keep temperatures locked in. Saturated Groups - pre-heated brew groups to keep the coffee path hot from boiler to spouts. Electronic Temp Control - built-in PID for brewing bring accurate temperatures and faster recovery to your shop machine. Volumetric Shot Programming - frees your barista to focus on the customers.
Insulated Steam Wands - to prevent burns and facilitate the barista's daily work. Automatic Backflush - the machine will perform an automatic backflush every night. 208v-240v outlet - see manual instructions. Water filtration - see manual instructions. Pressure regulator may be necessary if water pressure is too high - see manual instructions. We're happy to advise on any of the above requirements. We're a little different.. All orders within the U. We're here for the long haul. We believe in'client relationships' not'customer sales'. We're rewriting the industry standards for used equipment. Pro Coffee means exacting standards at great prices.
Warranties come standard on all our equipment. Empowering The Craft of Professional Coffee. We want to help build a world where everyone can enjoy great coffee.
We've started by making high quality coffee equipment more accessible at lower prices without the typical tradeoffs of used equipment - things like wondering what's inside the pipes and whether your used machine will last 5 years or 5 months. We've designed a renewal process by working with coffee equipment part manufactures to determine the lifespan of every critical component. We even reinvented the process of descaling espresso machines, ensuring ours are the cleanest on the market - particularly on the inside, where it really matters.
We welcome your partnership and look forward to serving you on your pro coffee journey. Please professionally install equipment with proper water filtration. We're more than happy to advise on this and carry nearly every water filtration brand.